How to register
In order to differentiate you from SPAM attackers, please fill in your real name
How to do a Basic login
Register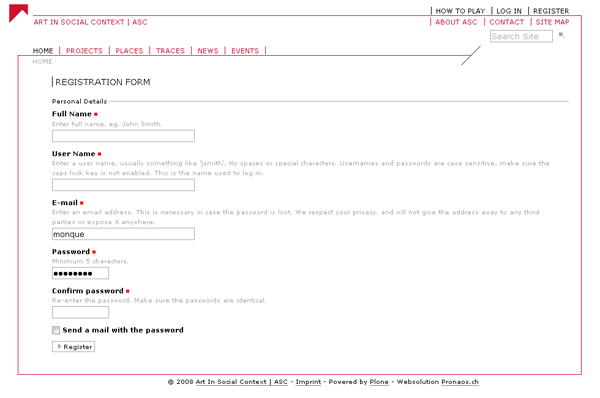 Information required to be able to login on the platform:
| | | | |
| --- | --- | --- | --- |
| | Full Name | | Enter your name and surname |
| | User Name | | A pseudo of your choice |
| | E-mail | | A valid e-mail address |
| | Password | | The password is required to login to the platform |
| | Send a mail with the password | | If you tick the box, you will receive a confirmation of your registration. It allows you to reset your password if you wish. |
| | To confirm | | Click register |
Login

Whether or not you ticked the option to receive an e-mail, you will get the following welcome screen:

Now when you click LOGIN, you get the following screen:

Your home folder
Click the link to your personal home folder on the top line. In the example, the user name is dodo. Click the home folder named dodo dated 21.09.2008 to enter.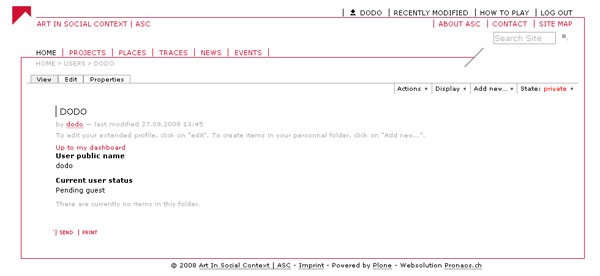 Pending guest
You now have the public name of dodo, and the current status of PENDING GUEST.
The status of PENDING GUEST allows you to surf on the platform. It does not give access to view the list of the TEAM MEMBERS of a project, or to ADD A PROJECT. In resources of a project, you will be asked again to JOIN ASC if you want to REGISTER for a resource. A pending guest cannot add comments.
Guest status

The site administrator will shortly approve your registration to a GUEST status.
For more details continue to GUEST STATUS.